Introduction
Mineral deficiencies are among the most important nutritional problems in grazing ruminants in tropical areas across the world. This is a consequence of mineral imbalances in pastures, causing a deficient animal performance. Pioneer studies (McDowell and Arthington, 2005) underlined that phosphorus deficiency was the most important and imbalances among microminerals were also to be considered. Mineral content of forages is provided by soil type and water resources. In the Yucatán peninsula soils are sedimentary and calcareous, and underground water is alkaline with high calcium content (COTECOCA 1978). Therefore, an excess of calcium, combined a low phosphorous content associated with either a lack or excess of microminerals induces a mineral imbalance in the soil-plant-animal relationship (Whitehead 2000).
In the State of Yucatán sampling and analyses of forages have been performed and confirm the situation mentioned above. Excess of calcium and iron, and deficiencies of phosphorus, copper, zinc, selenium and cobalt were detected (Millán et al. 1990, Vivas et al. 2011). Copper and zinc deficiencies in pastures were also reported in the neighboring State of Quintana Roo (Cabrera et al. 2009), as well as in Chiapas State (Muñoz et al. 2014), in the south of the State of México (Vázquez et al. 2011) and recently in Tlaxcala State (Muñoz et al. 2015), among other places. Various trials of mineral supplementation with grazing ruminants have been carried out in Yucatán (Segura and Castellanos 1999, Cetz et al. 2005) and a positive productive response of supplemented animals is widely reported (Muñoz et al. 2015).
Among the microminerals, copper (Cu) is one of the most important since it's a constituent of enzymes that particípate in the immune and antioxidant Systems, among other functions (Suttle 2010). But special attention must be considered since Cu is also a heavy metal that may be bioaccumulated in the body of both animals and humans causing toxicity and death (NRC, 2005). Despite the key role of water in livestock production, studies on water quality and its relationship to animal mineral status in México are scarce. Recently, Saucedo-Terán et al. (2017) analyzed the water quality of various cattle drinking sources in northern México and found differences depending on their origin. In Yucatán, no research was found in the specialized literature on water quality in farms producing ruminants on pasture. The objective of the present study was to estímate the Cu status in grazing sheep in different physiological conditions and relate it to Cu concentration in the drinking water depending on the geographical location of the farms, and the type of soil.
Materials and methods
Sampling was carried out during the rainy season (July to October) in the State of Yucatán. The State area was divided into four geographical zones according to traditional soil use: Center (C) sisal production, East (E) livestock, South (S) crops and West (W) undetermined (Figure 1).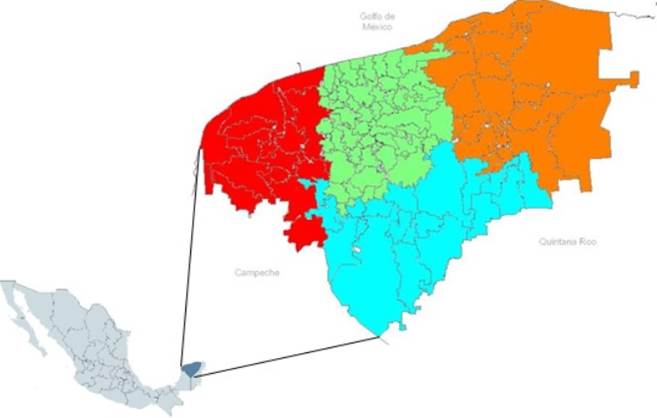 Bone biopsy samples
The census of the Sheep Farmers Association of Yucatán was used to identify farms susceptible to be sampled in all four geographical areas of the State (Figure 2). Bone biopsy samples were taken from grazing ovine. A total of 107 samples were taken as follows: 34 were taken from recently weaned lambs; 37 from females prior to first gestation (yearlings) and 36 from adult ewes. Biopsy was taken from the twelfth rib on the right side of the body using the technique described by Little (1972). Bone samples were placed in plástic containers in a solution of formaldehyde at 10 % for preservation, until analysis.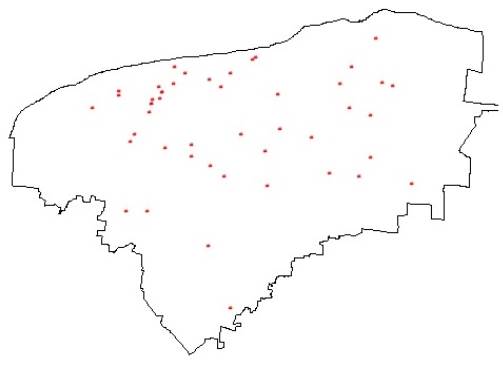 Copper analysis of bone biopsy
Approximately 0.5 g of bone was placed in a porcelain capsule; 1 mL of HCI solution was added and deposited in a water bath. After approximately 10 min, 3 to 5 additional drops of HCI were applied. The addition of acid was repeated twice as long as the sample solution remained in the water bath. Then the capsules were placed in an oven at 500 °C for 6 h or until gray ashes were obtained. They were left to cool, 0.5 mL of HCI (1:4) was added and the mixture was transferred to a beaker of 100 mL where 5 mL of HCI were added and evaporated to dryness in a water bath in order to remove SiO2. The residue was moistened with 2 mL of HCI; 50 mL of water were added and heated for a few minutes in a water bath. The sample was transferred to a volumetric flask of 100 mL, cooled abruptly, gauged to the mark, continuously shaken, and then filtered (Fick et al. 1979). Cu content was determined using a Perkin Elmer model 500 atomic absorption spectrophotometer, equipped with the respective hollow cathode lamp, using the methodology described by Fick et al. (1979).
Well water samples
Water samples were taken from the wells located in the same farms where bone samples were obtained. Since there were more farms in the E area, more water samples were taken from this región. Twelve samples were taken in farms in C area 13 samples from E area, four samples from S area and two samples from W area. The predominant soil type in each sampled farm was identified and duly recorded (Bautista et al. 2007).
Statistical analysis
Means, standard deviation, and mínimum and máximum valúes of data were estimated. Data were analyzed according to a completely randomized design with a factorial arrangement including the effects of the following factors: physiological situation of the ovine (recently weaned lambs, females prior to first gestation (yearlings) and adult ewes); the geographical location of the farm (C, E, S, W); soil type in the farm (rendzina, litosol, luvisol, vertisol, cambisol); the interactions and the experimental error (Montgomery 2004). Analyses were performed using Means and GLM routines of the SAS statistical software. When significant effects were detected in a variable, averages were compared through Tukey's test. All results were adjusted to a normal distribution.
Results and discussion
No interaction between the main effects tested was found; therefore, results are shown for each of the individual effects.
Copper in bone biopsy
The results of mineral content in sheep bone tissue, depending on the physiological State of the animals, are found in Table 1. The lowest mean valué was found in the females prior to gestation but it was similar to the one found in adult ewes (p > 0.05). Weaned lambs had the highest amount of bone Cu (p < 0.05). Data dispersión was greater in bone tissue of adult ewes, since the standard deviation was the biggest (0.47).
The average content of bone Cu in sheep disregarding the physiological situation of the animals was 0.62 mg/kg-1, an inferior value compared to the norm, which is 2.00 mg kg-1 (Fick et al. 1979). Only one animal had a normal concentration (2.23 mg kg-1). This result underlines a Cu deficiency in all the studied animals.
The mineral analysis of fodder is an incomplete tool for the diagnosis of the mineral status of grazing ruminants, since it considers neither the degree of intestinal absorption of minerals nor their metabolic utilization. One way to investigate mineral bioavailability is analyzing the mineral content of the animal's ribs. The ribs and axial skeleton are rehabilitated more rapidly than the long bones; therefore, it is there where mineral changes due to diet can be detected (Underwood and Suttle 1999). Therefore, the results of this experiment provide additional evidence to confirm the Cu deficiency reported previously in forages cultivated in the same zone (Vivas et al. 2011). Supplemental Cu must be included in the ovine diet in order to improve animal performance.
Copper content in well water related to its geographical location
Table 1 shows results of Cu concentration in the well water according to the geographical location of the sampled farms. Copper content in the east was lower (p < 0.05) than that found in other zones of the State, with the S zone having the highest level. Dispersión parameters were similar in all zones, except in the W zone where data dispersión was approximately double that found in the other zones.
The average Cu concentration from well water obtained in this experiment (0.14 mg L-1) can be considered low since it is far below the máximum 0.50 mg L-1 Cu concentration suggested by SEDUE (1989) and FAO (1994) for animal drinking water. Higher levels of Cu are accepted in water for human consumption, which can have as much as 2.00 mg L-1 (SSA, 1994). The low content of Cu in well water found in this experiment may be attributed to its low amount in the soil, which is confirmed by the low Cu content found in forages sampled in the same area (Vivas et al. 2011).
Copper in well water depending on the type of soil
Results of effects of soil type on Cu content in water are shown in Table 1. No statistical difference in the Cu content of water depending on the type of soil was found (p > 0.05). The largest variability of results was found in Cambisol, Luvisol and Rendzina type soils. The different types of soils did not prove to be an important factor in the concentration of Cu. This is probably due to the fact that all the soil in Yucatán State has a karstic origin (Bautista et al. 2015). Based on the above, it is concluded that there is a Cu deficiency in ovine grazing in Yucatán State since bone Cu was found below normal valúes. The analysis of well water showed a very low Cu content which is a consequence of the low Cu amount in the soil.