The Mexican beech (Fagus grandifolia subsp. mexicana (Martínez) A.E. Murray) is considered an endangered tree species of the tropical montane cloud under Mexican law (SEMARNAT 2010, González-Espinosa et al. 2011). It is restricted to the northeast-facing slopes of the tropical montane cloud forests (TMCFs) of eastern Mexico, at elevations of 1,450 to 1,987 m. Palynological studies by Biaggi (1978) found Fagus as a late Oligo-Miocene relict tree species in the state of Chiapas, Mexico (25 Ma BP). The Mexican beech is a wind-pollinated species that develops mass flowering in late winter (early February to mid-March) exhibiting synchronic masting years at 2 to 8-year intervals (Ehnis 1981, Williams-Linera et al. 2000, Godínez-Ibarra et al. 2007). This masting behavior occurs mostly in beech trees over 40 years old (Ehnis 1981, Peters 1992).
The Mexican beech belongs to the family Fagaceae that consists of 10 genera: Castanea, Castanopsis, Colombobalanus, Formanodendron, Chrysolepis, Lithocarpus, Quercus, Notholithocarpus, Trigonobalanus and Fagus (Manos et al. 2001, Manos et al. 2008, Denk & Grimm 2009, Denk et al. 2017) and nearly ≈ 927 species. Unisexual staminate flowers are arranged in catkin-structures or dropping aments. Pistillate flowers have an urn-shaped to oblong perianth that occurs singly or in dichasial clusters and that are succeeded by a one-seeded nut (Herendeen et al. 1995, Peters 1997, Manos et al. 2008). The ovary is located in the lower section, has three to six carpels, and produces a single seed while any remaining carpels abort (Okamoto 1989, Manos et al. 2008).
The floral morphology and anatomy studies of Fagus are few, and poorly known about them still. Previous studies are still relevant, as are those of Berridge (1914), Langdon (1939), Hjelmqvist (1948), Abbe (1974), Macdonald (1979), and Fey & Endress (1983).
Peters (1997) gave the following general flower description of beech species worldwide:
"Flowers appear simultaneously with leaves…Male flowers are produced in hanging heads with many flowers; while female flowers are produced in clusters of 2 to 4 flowers at the junction of the shoots and the upper leaves…"
Studies on the floral anatomy of Fagus species have been done on relatively few species: Fagus grandifolia Ehrh. from North America, F. crenata Blume from Asia, and F. sylvatica L. from Europe (Garrison 1957, Langdon 1939, Macdonald 1979, Okamoto 1989, Abe et al. 2016). These studies describe the early development of the staminate and pistillate flower, as well as the morphology of the cupule in the Fagaceae.
The geographic isolation of Mexican beech populations from those of F. grandifolia in the United States and Canada occurred approximately seven million years ago (late Miocene: Manos & Stanford 2001, Denk & Grimm 2009). This isolation led to morphological differentiation of leaves and beechnuts (Little 1965) and micro-ecological divergence among populations (Fang & Lechowicz 2006) promoting changes in the floristic composition of forests inhabited by Mexican beech (Rodríguez-Ramírez et al. 2016). The biogeographic history of Fagus and its extensive anatomical records (i.e., pollen, wood, cupules, and leaves) are evidence of the great ecological success of the genus and reflect its wide-ranging distribution.
The main aim of this study is to characterize the morphological and anatomical traits of the inflorescence, pistillate and staminate flowers of the Mexican beech and to compare them with Old-World and New-World lineages.
Material and methods
Study area. We selected five Mexican beech stands, which stretch from north to south throughout eastern Mexico (Figure 1). These sites have a temperate climate (Cwb sensu Kottek et al. 2006, Peel et al. 2007) characterized by mild temperatures (14.5-24.4 °C), a cool dry season from November to January, a warm dry season from early February to May, a summer season from June to July and a wet cold season from August to October. Annual precipitation ranges from 824 to 2,458 mm (Ehnis 1981, Peters 1992). Humidity levels of 60-85 % are the result of frequent fog, mist, and/or cloud water throughout the year (Peters 1995, Williams-Linera et al. 2000).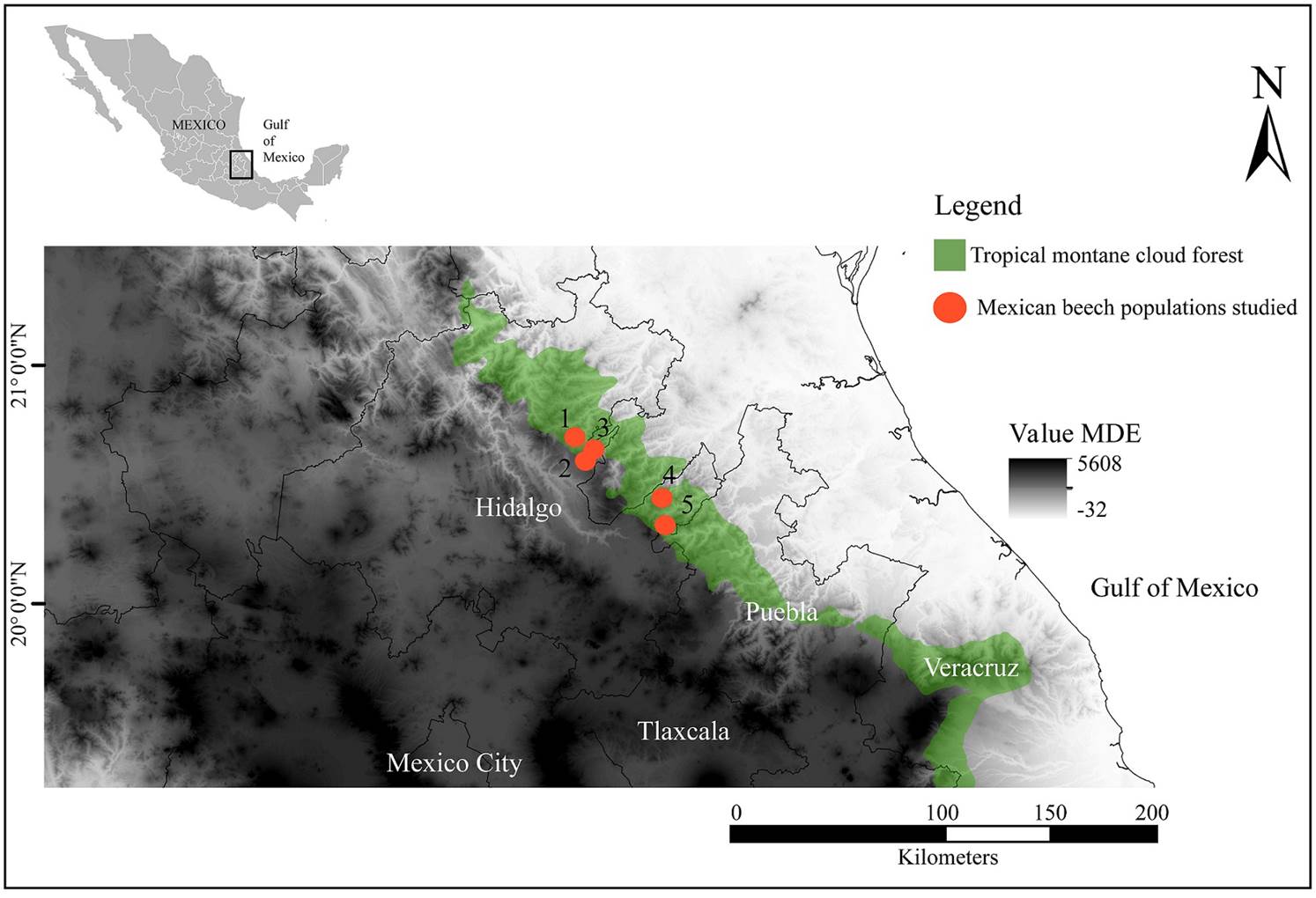 Material sampling. Four-hundred flower buds of Mexican beech were collected during a mass flowering (early February to early March from 2017 until 2020; during masting events) in each stand. Flowers at distinct developmental stages were fixed in formalin acetic alcohol (FAA: 70 % alcohol, formaldehyde and glacial acetic acid in a ratio of 85:10:5 v/v) and then transferred to 70 % ethanol (Johansen 1940). The voucher specimens of the samples collected were deposited in the Laboratorio de Biogeografía y Sistemática, Facultad de Ciencias, Universidad Nacional Autónoma de México (Table 1).
Collection site
Altitude
(m)
Voucher number
Collector
Oxpantla locality, Tianguistengo municipality, Hidalgo state, Mexico
1,808
MassFlowering00001
E. Chanes
La Mojonera locality, Zacualtipán de Ángeles municipality, Hidalgo state, Mexico
1,989
MassFlowering00002
E. Chanes
El Reparo locality, Zacualtipán de Ángeles municipality, Hidalgo state, Mexico
1,970
MassFlowering00003
E. Chanes
Medio Monte locality, San Bartolo Tutotepec municipality, Hidalgo state, México
1,864
MassFlowering00004
E. Chanes
El Gosco locality, Tenango de Doria municipality, Hidalgo state, Mexico
1,720
MassFlowering00005
E. Chanes
Digital imaging. We observed the morphology of 400 mature and immature pistillate and staminate flowers under a stereomicroscope (Axio Zoom V16) at a field depth of 36 (m and documented same in TIFF format using a digital camera (AxioCam MRc 5, Zeiss) with a resolution of 1.3 mm. The material was dehydrated in n-butyl alcohol series (Gerrits & Smid 1983) for light microscopy analysis.
Scanning electron microscopy. Pollen. Pollen was removed from anthers and mounted on aluminum stubs and sputter-coated with gold by a JS-1600 sputter coater scanning electron microscope (SEM). Non-acetolysed pollen was used for SEM because previous studies using acetolysed and non-acetolysed pollen of Fagaceae showed the same details of the pollen surface (Denk & Tekleva 2014). Pollen grains were dehydrated in ethanol series for their ornamentation analyses under a SEM. The images were taken using Hitachi S-4800 and S-3400 scanning electron microscopes from 0.5 to 30 kV (variable at 0.1kV/step).
Floral studies, morphological-anatomical studies. The reproductive structures (floral buds, flower at anthesis) were dehydrated in graded alcohol (from 30 to 100 %) and put into paraffin blocks for conventional histology (Johansen 1940). We performed 12 μm thick transverse and longitudinal sections with a rotary microtome. Sections produced with the microtome were placed on slides, stained with safranin and fast green (López 2005) to be observed under a stereoscopic microscope (Axio Zoom. V16) at a field of depth of 36 (m and photographed with an AxioCam MRc 5 (Zeiss). For tissue clearing, flower materials were transferred to a 10 % sodium hydroxide (NaOH) solution for 2 days or until the tissue became clear, rinsed with distilled water and stained with safranin 1 % in water. Anatomical descriptions [e.g., (i) the presence of carpellary bundles originated by fusion of branches from the main bundles instead of the perianth and stamens; (ii) the concentration of the placental strands in a definite layer beneath the loculi of the ovary, with a corresponding absence of vascular tissue in the septa; (ii) the double nature of the dorsal bundles of the carpels] were made following the criteria of Berridge (1914), Brett (1964), Langdon (1939) and Thaowetsuwan et al. (2017).
Results
Morphology of inflorescence and flowers. Three different kinds of inflorescence architecture exist in beech species worldwide (American and Asian beeches; Figure 2; Table 2). Mexican beech has a large terminal bud of the leading shoot and the 6-8 long lateral shoots (ca. 100 mm) commonly have four or more staminate flowers (catkins) and about one or two pistillate flowers as in several Asian beech species (Figure 2A-B-III). Inflorescence shows young leaves and bracts around each floral bud (Figure 3A).
The staminate flowers consist of several compact catkins about 1.5 to 3 mm across. Each catkin (staminate flower; Figure 3B) is sheltered by 4 to 8 short-hairy grouped bracts (≈ 2 mm; Figure 3C). The pistillate flower is located at the top of the branches and the several (from 6 to 8) staminate flowers are located at the base. The individual pistillate flower is 4 to 6 mm long, oblong-ovoid in shape, with three carpels (Figure 3D). The pistillate flower is reduced and comprises only one flower (in rare cases, two flowers) arranged in a dichasium (Figure 3D).
The pistillate flower develops two-winged triangular nuts (1.5 mm long and 2.4 mm wide at the base; Figure 3E) surrounded by a spiky cupule of 4 sharply triangular involucral bracts (Figure 3F). If the pistillate flower is not fertilized, it also develops a cupule containing two empty nuts that consist of pericarps due to parthenocarpy. Fruit maturation occurs six months after pollination (late July to early August).
Histological description of staminate and pistillate Mexican beech flowers. Staminate flowers have four triangular-shaped involucral bracts (Figure 4A), 1.16 mm long by 0.5 mm wide with trichomes on the abaxial face. These involucral bracts wrap up 10-12 mature stamens (2.1 mm in average) in two whorls. The yellow stamens have basifixed anthers (1.6 mm in length) with short filaments, 0.57 mm long on average. We recognized two stages of the staminate flower development before anthesis: 1) when microsporangia are young, and parietal strata and remnants of the tapetum are shown, and a thin exothecium and endothecium were observed (Figure 4B). 2) mature microsporangia with uniseriate endothecium are covered by a thin irregular epidermis (Figure 4C-D). Some staminate flowers occasionally have a short-stylar column (an ancestral morphological feature; Figure 4E).
Each pistillate flower is structured in a cupule, which is enclosed by 4 basal or peripheral involucral bracts enclosing the entire cupule as it gets longer. The cupule develops 4 or more levels of bract bearings (Figure 4F-G). There is a tomentose indument on the inner and external surfaces of the bracts.
The cupule develops two florets with an adnate perianth on the upper part of the ovary (Figure 4F-G), with an epigynous ovary. The cupule is covered by bract bearings with abundant hair trichomes on the abaxial face (Figure 4F). A long funicle in basal position and thick column is produced where the ovules develop (Figure 4G). Two pendulous semi-anatropous ovules are showed (Figure 4H). The ovaries are tricarpellate, trilocular and with trigonous shape (Figure 4I-J).
In cross-section, the fruit is observed to comprise immature trigons surrounded by bract bearings (Figure 4I). The fruits show an unstratified internal and external epidermis with dark staining deposits (Figure 4I-J), all pericarp cells are irregular with dark contents and vascular bundles are tiny or inconspicuous.
The bract bearings are formed by mesophilic cells with dark staining deposits and also have a row of fibers with thick walls in the inner epidermis (Figure 4J). The involucral scales of the cupule are observed in the apical zone of the flowers (Figure 4K).
Shape of pollen grains. Pollen grains are single, isopolar, radially symmetrical, tricolporate and subspheroidal, and rounded in the polar view (Figure 5A-E). Pollen grains measure 37-44 (m. The polar axis width is 17-22 (m and the equatorial diameter is 18-32 (m (Table 2).
Three colpi run parallel to the polar axis and cover next to the polar ends (Figure 5B). Colpi are of medium length (≈ 42 (m; Figure 5C) with somewhat acute apices. The geniculus is always present (Figure 5C). This structure takes the form of an equatorial bulge in the exine of the colpi (Van Campo & Elhai (1956) called it "accolade"), which is often associated with a splitting of the sexine from the nexine and a consequent rupturing of the latter (Reitsma 1970, Gortemaker 1986, Denk 2003). Colpi are narrow, long, with rectangular apical colpus (Figure 5C, E).
The pollen surface appears psilate to finely verrucate under light microscopy but with enlarged vermiform micro-ornamentation and small perforations in the tectum by SEM (Figure 5D).
Discussion
Our morphological description of the Mexican beech inflorescence corresponds to those of other Fagus species worldwide, having a pistillate dichasium lacking a central flower and two lateral florets (Eichler 1878, Okamoto 1989). Fagus inflorescence shows four free involucral bracts that tend to reduce, considered as ancestral in Fagaceae (Cole 1923, Langdon 1939, Brett 1964, Forman 1966, Macdonald 1979, Kaul & Abbe 1984, Okamoto 1989). Nevertheless, Mexican beech inflorescence has a different topology concerning F. grandifolia and F. sylvatica but coincide with Asian beech species such as Fagus hayatae subsp. pashanica, F. lucida, F. longipetiolata and F. engleriana (Figure 2, Table 2).
According to the evolutionary scenario proposed by Gandolfo et al. (2018), the central bi-carpellate flower with a short-stylar column was either lost or suppressed such as in Protofagacea and Soepdmoa from the Late Cretaceous. This would imply morphological features shared between Protogaceae fossil records and Fagus genus to be plesiomorphic within subgenus Fagus. Likewise, occasionally Mexican beech have staminate and pistillate flowers (flowers with short-stylar column or pistiloid), also reported in F. grandifolia (Langdon 1939, Garrison 1957). Nevertheless, these were not observed in the ontogenetic study of F. crenata and F. sylvatica (Brett 1964, Okamoto 1989) which leads us to believe that it is an ancestral characteristic in beeches worldwide.
Fagus is now generally placed as the sister to the remainder of modern Fagaceae based on anatomical and molecular data (Denk 2003), and all modern Fagaceae sensu stricto have only 3-carpellate or 6-carpellate flowers, with some variability.
In general, the anatomy and morphology of the Mexican beech flowers correspond with F. grandifolia (Canada and United States of America) and F. sylvatica (Europe). The Mexican beech shares certain morphological traits (cuneate leaves, spiny four-valvate cupules on long peduncles, and pollen with long colpi; Martínez 1940, Williams-Linera et al. 2000, Manchester & Dillhoff 2004) with the American beech species. Nixon et al. (1997), Denk & Meller (2001) and Williams-Linera et al. (2003) found clinal morphological and anatomical variations in F. grandifolia (e.g., leaves and beechnut morphological features).
Notwithstanding, fossil records show some features (e.g., leaves, cupules and pollen ornamentation) indicating a close relationship of Mexican beech with Fagus pliocenica Saporta and F. langevinii Manchester & Dillhoff from the middle Eocene, F. pacifica Chaney from early Oligocene and F. manosii Wheeler & Dillhoff from Miocene (Manchester & Dillhoff 2004). Denk et al. (2005) pointed out a Northern Pacific origin of the genus instead of an east Asian origin as stated by previous researchers (e.g., Manos & Stanford 2001). It has been suggested that the differentiation of the architectural features of the Mexican beech flower happened latter from the American beech species, as an Oligocene-Miocene or Pliocene fragmentation of the biogeographic distribution area. Manos & Stanford (2001) and Denk et al. (2005) suggested that the most distinct taxon within the subgenus Fagus is F. grandifolia from eastern North America. They interpret a sister taxon relationship between F. grandifolia and subgenus Engleriana.
In this study, we demonstrate that the morphology of the inflorescence of the Mexican beech is related to some Asian beech species (Fagus hayatae subsp. pashanica, F. lucida, F. longipetiolata and F. engleriana) and the flower anatomy is similar to the American beech (F. grandifolia). This controversy can be explained by possible hybridizations that occurred in the past with currently extinct species such as F. pliocenica, F. langenvinii, F. pacifica and F. manosii among others (Denk & Grimm 2009, Manchester & Dillhoff 2004, Renner et al. 2016), which allowed the isolation of F. grandifolia subsp. mexicana from eastern Mexico and F. grandifolia from Canada and the United States of America. As Nixon et al. (1997) and Kitamura & Kawano (2001) suggested, taxonomic research of variation in the "F. grandifolia" complex is required. Morphological similarities (Figure 2C) and environmental differences played out could determine the hypotheses of homology and homoplasy. Even though there is no detailed information on the floral anatomy of different Fagus species worldwide, so it is necessary to carry out anatomical and morphological studies of species such as Fagus hayatae subsp. pashanica, F. lucida, F. longipetiolata and F. engleriana.
The Mexican beech represents the southernmost distribution of Fagus on a worldwide scale. The Mexican beech inhabits the TMCFs of eastern Mexico and differs from Fagus grandifolia in the USA and Canada in terms of semi-deciduous leaf persistence (maintaining at least 50-70 % of its leaves). Nevertheless, Asian beech species occur in subtropical montane forests characterized by mesic climatic conditions similar to those that occur in the TMCFs of Mexico that the Mexican beech inhabits. This also occurs with other codominant trees coexisting with Fagus in the TMCF of Mexico, such as Carpinus, Ostrya, Liquidambar, Magnolia, and several oak species. The floristic composition of the Fagus forests worldwide is similar and consists of the same set of ancient lineages (e.g. Acer, Carya, Magnolia, Quercus, among others).
Manos & Standford (2001) suggested an Asian origin and subsequent dispersals and environmental filtering to North America and Europe, ideas that agree with recent findings that all present-day tropics are dominated by similarly high levels of Miocene aged phylogenetic lineages (Peters 1997).
This research contributes to the floral anatomical studies of the Fagus species, which are limited to Fagus sylvatica from Europe (Brett 1964), F. grandiflora from United States of America and Canada (Langdon 1939, Garrison 1957, Macdonald 1979) and F. crenata from Japan (Okamoto 1989). Nevertheless, further morphological, molecular and ecological studies of several Asian beech species (e.g., F. chienii, F. longipetiolata, F. okamotoi, F. multinervis among others) are needed to achieve a more detailed understanding of their floral morphology and anatomical evolution.