Introduction
The bobcat (Lynx rufus) is distributed from southern Canada through the United States of America (U.S.A.) to southern México. This felid is present in about 80 % of the Mexican territory, with records from 27 of México's 32 states. The bobcat inhabits many ecosystems including desert, mesquite-grassland, thorn forest, tropical deciduous forest, and pine-oak forest (Hall 1981; Barcenas and Romero 2014). Estimating densities and population sizes is crucial to understanding the ecology and conservation needs of wildlife. Bobcat densities reported for the U.S.A. vary from 0.05 ind/km2 in southeastern Idaho to 0.58 ind/km2 in South Carolina (Rolley 1985; Heilbrun et al. 2003). In México, the bobcat is considered the most abundant wild felid (Leopold 1959), and about 35 % of the bobcat's distribution lies in México (Hall 1981). However, there is no published information available about densities of this wild cat in México. The aim of this study was to document bobcat density throughout México to determine whether a similar abundance pattern occurs there as in the U.S. We hypothesize that bobcat densities will vary along its distribution, with higher densities in northern México and lower densities in southern México. The results of this study will be useful to inform conservation and management policy and will help secure the long-term survival and sustainable management of the species.
Methods
This study was carried out at six sites in México. Sites are listed in a north-south gradient, as shown in Figure 1. 1) Sierra Seri, Sonora, in the Sonoran Desert, is characterized by columnar cacti, microphyllous shrub, succulent scrub, scarce annual precipitation of around 400 mm, and extreme temperatures with a very arid climate. Average temperature is 21 ºC and summer temperatures may reach 48 °C. Elevation is 100 to 300 masl. 2) Janos, Chihuahua, is covered by mesquite-grassland and small patches of riparian vegetation, annual precipitation is 500 mm, and climate is arid-dry (García 1981). Average temperature is 16 ºC and elevation is 900 to 1,200 masl. 3) San Ignacio, Sinaloa, on the pacific coastal plain, is characterized by tropical dry forest, with an annual temperature of 21 to 24 °C, dry climate, and elevation 0 to 100 masl. 4) Monte Grande, in Sierra Fria, Aguascalientes, is characterized by a mixed forest dominated by Quercus spp. and Arctostaphylos pungens. Annual temperature is 11 to 18 °C, climate is humid temperate, and elevation is 1,800 to 2,200 masl. 5) San Miguel Topilejo, México City, is a region covered by pine-oak and pine-tufted grassland, with an annual temperature of 4.5 to 11 °C, precipitation averaging 1,200 mm, and elevation 2,700 to 3,000 masl. 6) Acatlán de Osorio, Puebla, is characterized by tropical thorn forest mixed with disturbed tropical deciduous forest, and elevation is 1,000-1,300 masl. The climate is arid-dry, with an average annual rainfall of 652 mm and annual temperature of 22 °C (García 1981).
Visits to each site were carried out between 2005 and 2007. The first visit was to confirm the presence of bobcats at each site by recording tracks and feces. The next two visits were carried out in the dry season (March-June) and in the rainy season (July-October). Camera traps were active for 15 to 20 days during each site visit. Sinaloa and Puebla were visited only once each during the dry season. We added these two sites at the end of the study to increase representation of the southernmost extreme of the species' range and to sample two additional habitats: tropical deciduous forest and tropical thorn forest mixed with tropical deciduous forest. At each site, 20 camera-trap stations were activated for a period of 15 to 20 days per season (wet and dry), for a total of 30 to 40 days at each site (except Sinaloa and Puebla). The cameras were deployed at one site and then moved sequentially to all other sites. Twelve CamTrakker® Ranger and 8 Stealth Cam® TM analog 35 mm cameras were used; each had a white flash and used film with only 36 images per roll. Camera traps were checked every 4 to 8 days to replace film and batteries. Half of the trapping stations were set with double cameras (to capture both flanks of the animals) and half were set with single cameras. Trapping stations were 800 to 1,000 m apart, thereby covering an area of approximately 10 km2 at each site.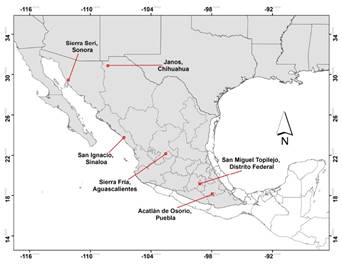 For individual identification of the bobcats, we used a combination of distinguishing characters including the patterns of rosettes, spots, and stripes on flanks, banding patterns of tails, marks on their faces, and sex, as recommended in Heilbrun et al. (2003). We estimated densities using the number of photographed and re-photographed individual bobcats using the software CAPTURE (Otis et al. 1978). CAPTURE estimates the size of monitored populations through the following steps: 1) tests that capture and recapture assumptions were not violated, including whether the monitored population behaved as a closed population; 2) checks the capture history (data) with various statistical tests (null model, catch heterogeneity model, catch response model, temporal variation model in catch probability, and the combination of all these models), to determine which model is the most appropriate for those data; and 3) estimates the probability of capture and the population size or the absolute abundance (N), with standard error and a confidence interval. The size of the effective sampling area was calculated by two methods: the first method considered a circular buffer around each camera trap station, with radius of half the mean maximum distance moved (1/2 MMDM) among multiple captures of individual bobcats during the sampling period (Wilson and Anderson 1985); the second method considered a circular buffer around each camera trap site but the radius was the mean maximum distance moved (MMDM) among multiple captures of individual bobcats during the sample period (Soisalo and Cavalcanti 2006).
In combination with the density estimates obtained at each site and MaxEnt (Phillips et al. 2006), the potential habitat available was calculated for each site. First, an ecological model for the entire bobcat range in México was constructed with 530 GBIF bobcat records plus our own observations, and 23 continuous variables (19 of worldclim, plus vegetation of México, slope, topography, and elevation). The cells were 0.01 km2 for each grid. We used 50 % of the records to construct the model and 50 % were used for validation of the model. Also, the proportional contribution of each variable was calculated with a Pearson correlation analysis using program R to calculate their weight in the bobcat distribution model (R Core TEAM 2015). Using the best model, the size of each polygon, and estimated bobcat density, we predicted the number of bobcats present in each studied area.
Results
With an effort of 2,070 camera trap days, we obtained 41 bobcat photographs. Bobcats, like other spotted or striped cats, can be identified individually by their coat pattern (Figure 4). Density analysis was made using 35 photographs; six photographs were only a tail or a foot and thus not useful to identify individuals (Table 1). Densities varied from 0.053 to 0.523 bobcat/km2 in the rainy season to 0.174 to 0.536 bobcats/km2 in the dry season (Table 2). The most robust model in most cases was model heterogeneity (Mh; Table 1). Janos, Chihuahua, had the highest reported density at 0.536 bobcat/km2, and San Miguel Topilejo, Distrito Federal, had the lowest reported density at 0.053 bobcats/km2 (Table 2). In Monte Grande, Sierra Fria, Aguascalientes, in 540 trap-days we did not obtain any bobcat records. Instead, we obtained 21 photographs of mountain lions (P. concolor) and the first record of ocelot (Leopardus pardalis) for the state of Aguascalientes (Barcenas and Medellin 2010).
The MaxEnt ecological niche model obtained for all the distribution is depicted Figure 2. The model showed an area under the curve (AUC) of 0.843. Correlations were calculated using cor.test in R package stats (R Core TEAM 2015) and show that five variables contributed approximately 60 % of the total variance: vegetation type (21.6 %), precipitation of the driest trimester (11.8 %), annual range in temperature seasonality (11.1 %), isothermality (8.7 %), and mean temperature of the coldest quarter 5.7 %; www.worldclim.org). After the ecological niche was defined, the calculated abundances were extrapolated to estimate the population size in each area (Figure 3). The largest area estimated by MaxEnt was San Miguel Topilejo with 16,663 km2 and 883 to 2,066 bobcats, and the smallest area but with the highest density was in San Ignacio, Sinaloa, with only 1,861 km2 and an estimated population of 592 to 890 bobcats (Table 3).