Serviços Personalizados
Journal
Artigo
Indicadores
Links relacionados
Similares em SciELO
Compartilhar
---
versão impressa ISSN 1870-249X
J. Mex. Chem. Soc vol.56 no.2 Ciudad de México Abr./Jun. 2012
Article
Orizabolide, a New Withanolide from Physalis orizabae
Emma Maldonado,1* Rodrigo Gutiérrez,1 Ana L. Pérez–Castorena,1 and Mahinda Martínez2
1 Instituto de Química, Universidad Nacional Autónoma de México, Circuito Exterior, Ciudad Universitaria, Coyoacán, 04510, D. F., México. *emmaldon@unam.mx. Telephone +52 55–562–4412.
2 Facultad de Ciencias Naturales, Universidad Autónoma de Querétaro, Avenida de las Ciencias s/n, Col. Junquilla 76230, Querétaro, Qro., México.
Received August 29, 2011.
Accepted February 8, 2012.
Abstract
A new withanolide, orizabolide (1), together with the known flavonoid rutin (2) were isolated from the aerial parts of Physalis orizabae. Structural elucidation of these compounds was carried out by interpretation of their spectroscopic data.
Key words: Solanaceae, Physalis orizabae, withanolide, orizabolide, rutin.
Resumen
Una nueva withanólida, orizabólida (1), junto con el conocido flavonoide rutina (2) fueron aislados de las partes aéreas de Physalis orizabae. La elucidación estructural de estos compuestos se llevó a cabo por interpretación de sus datos espectroscópicos.
Palabras clave: Solanaceae, Physalis orizabae, withanólida, orizabólida, rutina.
Physalis is a genus of the Solanaceae family with ca. 90 species, most of them endemic to Mexico [1]. These plants are a recognized source of withasteroids, which are ergostane type steroids with a lactone or lactol at the C–17 side chain. These compounds usually exhibit significant biological activities [24]. Nevertheless, withasteroids are not the only constituents of Physalis species; they also contains ceramides [5], sucrose esters [6,7], amides, homoergostanes [7], labdane diterpenes [7,8], and flavonoids [6–10]. The flavonoids isolated from Phy–salis are flavones and flavonols, which usually are present as glycosides. As a continuation of our studies on this genus we have investigated Physalis orizabae Dunal, an herbaceous, perennial plant, growing in Western and Central Mexico [11], which is used to treat diarrhea and gallbladder disease [12]. This study led to the isolation and structural elucidation of the new withanolide, orizabolide (1), and the known flavonoid rutin (2) which was present in a high concentration in this plant.
Results and Discussion
Orizabolide (1) was isolated as colorless crystals. Its ESI–MS showed a pseudomolecular ion peak at m/z 567 [M + Na]+, which together with the 13C NMR spectrum exhibiting 30 signals allow to propose the molecular formula C30H40O9 [13]. The IR spectrum showed the absorption for hydroxyl group at 3369 cm–1, and a broad band at 1710 cm–1, whose second derívate indicated the presence of ester (1734 cm–1), α,β–un–saturated–δ–lactone (1711 cm–1), α,β–unsaturated ketone (1686 cm–1), and double bonds (1659 cm–1). The 13C NMR spectrum exhibited two signals corresponding to an acetyl group (5 171.2 and 21.0). The above mentioned and the 1H NMR signals at 5 5.76 (ddd, J = 10, 3, 1.5 Hz, H–2), 6.85 (ddd, J = 10, 5, 2.5 Hz, H–3), 3.32 (br d, J = 21.5 Hz, H–4a), 2.86 (br dd J = 21.5, 5 Hz, H–4b), and 5.61 (dt, J = 6, 2 Hz, H–6), allowed to propose that 1 was an acetyl withanolide possessing a 2,5–dien–1–one system in rings A/B. The presence of the dienone was supported by the carbon signals at ô 204.1 (C–1), 128.2 (C–2), 146.4 (C–3), 34.0 (C–4), 136.5 (C–5), and 125.8 (C–6), and confirmed by the HMBC correlations of H–4b with C–2, C–3, C–5, C–6, and C–10 (5 51.5), of H–6 with C–4, C–7 (5 26.48), C–8 (5 38.5), and C–10, and those of H3–19 (5 1.19 s) with C–1, C–5, C–9 (5 36.9), and C–10. The presence of an α,β–unsaturated–δ–lactone was evident from the NMR signals for a δ–lactone carbonyl (δ 166.4, C–26), two olefinic carbons (δ 153.4, C–24 and δ 121.6, C–25), a methylene (δh 3.23 and 2.39, δc 29.7, CH2–23), an oxymethyne (δH 4.92, δC 82.1, CH–22), a methyl (δH 1.82, δC 11.9, CH3–27), and an oxymethylene (δH 4.41 and 4.28, δC 61.7, CH2–28). These assignations were based on the correlations of H–27 with C–24, C–25 and C–26, and those of H–28 with C–23, C–24 and C–25, observed in the HMBC spectrum. The oxygenated function bonded to C–28 was an hydroxyl group, whose proton signal appeared at δ 4.18 and showed interactions with both C–28 protons in the COSY spectrum, and with C–24 in the HMBC spectrum. The multiplicity of H–22 (dd, J = 13, 3 Hz) and its HMBC correlations with an oxygenated non protonated carbon (δ 79.7, C–20) and with a methyl carbon (δ 19.4, CH3–21) established the presence of an hydroxyl group at C–20. Two additional signals for oxygenated non–protonated carbons were observed at δ 88.9 and 81.7. The first signal was attributed to C–17 on the basis of its correlations, in the HMBC spectrum, with H3–21, H2–15 (5 1.61), H2–16 (5 2.66, 1.72), H2–18 (δ 4.38), and OH (δ 3.93). The last signal was assigned to a 17–OH group by its correlations, in the HMBC spectrum, with C–13 (δ 58.2), C–16 (δ 37.9), C–17, and C–20. Signal at δ 81.7 was assigned to C–14 on the basis of the observed HMBC correlations with H2–15, H–16β (5 1.72) and H2–18. The acetoxy group was bonded to CH2–18, as indicated by the chemical shifts of this methylene (δC 65.2, δH 4.38, 2H) and the correlations of H2–18 with the acetoxy carbonyl (δ 171.2), and with C–12 (δ 26.53), C–13, C–14, and C–17. The configuration of C–22 was established as R on the basis of the H–22 coupling constants (J = 13, 3 Hz) [14]. The β–orientation of the 17–OH group was deduced from its NOESY correlations with H2–18 and H–16β. On the other hand, the NOESY correlations of H2–18 with H–8β, H–11β (δ 1.43), and H–15 are only possible if the hydroxyl group at C–14 is α–oriented, since Dreiding models of the C–14 epimer, indicated two possible conformations: In the first one, with ring C in a chair conformation, NOE of H2–18 with H–8β and H–11β, but no with H–15β should be observed. On the contrary, in the second one, ring C adopts a twist boat conformation, in which H2–18 should show NOE only with H–15β. Supporting these assumptions, the chemical shifts of C–9–C–17 signals of 1 are similar to those of the quite related compounds physacoztolide D [8] and physachenolide A, whose structure was confirmed by X–ray diffraction analysis [15].
The flavonoid glycoside rutin (2) was also isolated from this plant and identified by comparison of its physical and spectroscopic data, and those of its decaacetyl derivative, with those in the literature [16–18]. The presence of large amounts of rutin in this plant is interesting due to its relevant biological activities. It is an inhibitor of rat intestinal α–glucosidases [19], and shows, among others, antioxidant, anti–gastric, anti–Helico–bacter pilori, and hepatoprotective activities [20–22].
Experimental Section
General Experimental Procedures. Melting points are uncor–rected. Column chromatography (CC) was performed on silica gel 60 (Merck G) and assisted with vacuum. TLC was carried out on precoated Macherey–Nagel Sil G/UV254 plates of 0.25 mm thickness. Preparative TLC was carried out on precoated Macherey–Nagel Sil G/UV254 plates of 2.0 mm thickness. Optical rotation was measured on a UV–Vis Shimadzu U160 polarimeter. The IR spectra were recorded on a FT–IR Bruker Tensor 27 spectrometer. 1H and 13C NMR spectra were recorded on a Varian Unity Plus 500 spectrometer, with TMS as internal standard. ESI–MS were recorded on an ESI Ion trap Bruker Esquire 6000 mass spectrometer.
Plant Material. Aerial parts of Physalis orizabae Dunal were collected in Ocoyoacac, State of México, México, on August 2006. A voucher specimen of the plant (EMJ–8) was identified by Dr. Mahinda Martínez and deposited at the Herbarium of the Universidad Autónoma de Querétaro.
Extraction and Isolation. Dried and ground leaves, flowers and stems of P. orizabae (284.8 g) were extracted with Me2CO and then with MeOH. These extracts showed similar profiles by TLC; therefore, they were combined (60.94 g) and partitioned between EtOAc–H2O to obtain 17.9 g of the EtOAc fraction. A yellow solid (5.34 g) was filtered off from the aqueous fraction. The EtOAc fraction was fractioned by CC (column A) eluted with mixtures of hexane–EtOAc of increasing polarity. Fractions eluted with hexane–EtOAc 3:2 to 2:3 were combined (2.08 g). They were discolored with activated charcoal and purified by column chromatography eluted with hexane–Me2CO 4:1 to 1:1. Fractions eluted with hexane–Me2CO 3:1 (187 mg) were submitted to column chromatography (CH2Cl2–Me2CO 4:1), followed by preparative TLC (hexane–EtOAc 1:4; 3 runs) and crystallization (EtOAc–hexane) to obtain compound 1 (12.7mg). Compound 2 (3.97 g) was obtained by crystallization of the yellow solid obtained from the aqueous phase. Acetyla–tion of 2 (74.5 mg) in the usual manner gave 96.9 mg of its decaacetyl derivative.
Orizabolide (1). Pale yellowish crystals, mp 174–176 °C; [α] D + 38 ° (c 0.21, MeOH); IR (KBr): vmax 3369, 1710 cm–1 (second derivate: 1734, 1711, 1686, 1659 cm–1); 1H and 13C NMR: Table 1; ESIMS m/z: 567.3 [M + Na]+.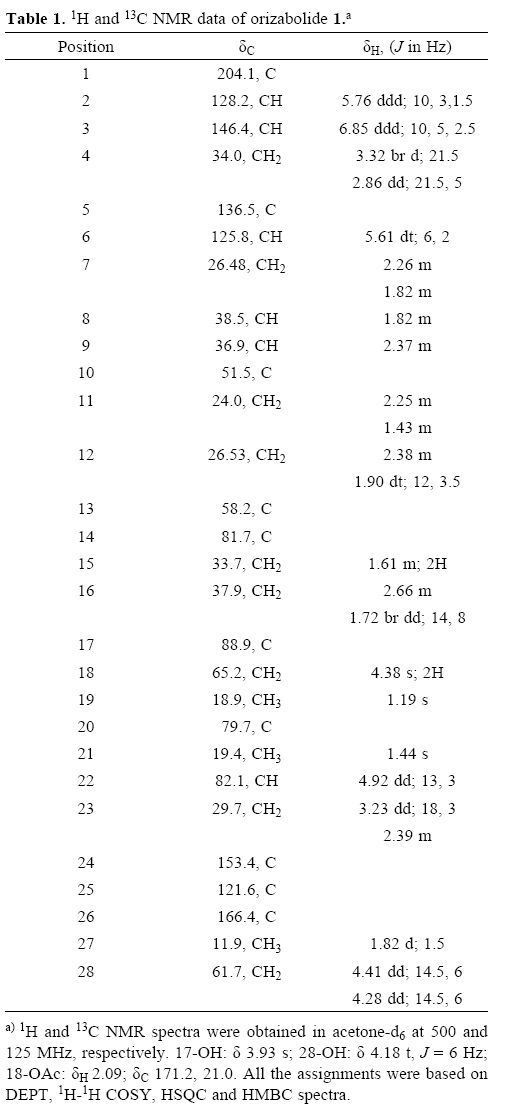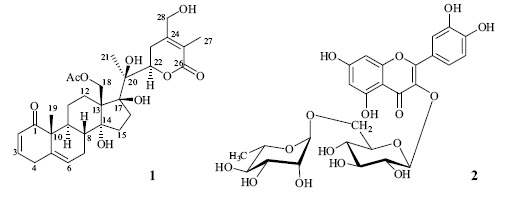 Acknowledgements
Authors thank to Héctor Ríos, Ángeles Peña, Elizabeth Huerta, Rocío Patiño, Eréndira García, Carmen Márquez, Luis Velasco, and Javier Pérez for technical assistance. We thank to CONACyT for financial support to this work (Project 34993–N).
References
1. Martínez, M. Revision of Physalis Section Epeteiorhiza (Solanaceae). Anales del Instituto de Biología, Universidad Nacional Autónoma de México, Serie Botánica 1998; 69, 71–117. [ Links ]
2. Ray, A. B.; Gupta, M. Withasteroids, a growing group of naturally occurring steroidal lactones, in: Prog. Chem. Org. Nat. Prod., Vol. 63, Herz, W.; Kirby, G. W.; Moore, R. E; Steglich, W., Tamm, Ch. Eds., Springer Verlag, Wien. 1994, 1–106. [ Links ]
3. Tomassini, T. C. B.; Barbi, N. S.; Ribeiro, I. M.; Xavier, D. C. D. Quim. Nova 2000, 23, 47–57. [ Links ]
4. Maldonado, E.; Amador, S.; Martínez, M.; Pérez–Castorena, A. L. Steroids, 2010, 75, 346–349. [ Links ]
5. Su, B. N.; Misico, R.; Park, E. J.; Santarsiero, B. D.; Mesecar, A. D. ; Fong, H. H. S.; Pezzuto, J. M.; Kinghorn, A. D. Tetrahedron 2002, 58, 3453–3466. [ Links ]
6. Maldonado, E.; Torres, F. R.; Martínez, M.; Pérez–Castorena, A. L. J. Nat. Prod. 2006, 69, 1511–1513. [ Links ]
7. Pérez–Castorena, A. L.; Martínez, M.; Maldonado, E. J. Nat. Prod, 2010, 73, 1271–1276. [ Links ]
8. Pérez–Castorena, A. L.; Oropeza, R. F.; Martínez, M.; Maldonado, E. J. Nat. Prod, 2006, 69, 1029–1033. [ Links ]
9. Sahai, M.; Neogi, P. J. Indian Chem. Soc. 1984, 61, 170–171. [ Links ]
10. Ismail, N.; Alam, M. Fitoterapia 2001, 72, 676–679. [ Links ]
11. Vargas Ponce, O.; Martínez y Díaz, M.; Dávila Aranda, P. La familia Solanaceae en Jalisco. El género Physalis. Colección Flora de Jalisco. México. Universidad de Guadalajara 2003. [ Links ]
12. Santiaguillo, H. J. F.; Blas, Y. S. Rev. Geo. Agric. 2009, 43, 81–86. [ Links ]
13. Orizabolide (1) is a labile compound. It was not possible to obtain its HR–MS. [ Links ]
14. Minguzzi, S.; Barata, L. E. S.; Shin, Y. G.; Jonas, P. F.; Chai, H. B.; Park, E. J.; Pezzuto, J. M.; Cordell, G. A. Phytochemistry 2002, 59, 635–641. [ Links ]
15. Maldonado, E.; Torres, F. R.; Martínez, M.; Pérez–Castorena, A. L. Planta Med. 2004, 70, 59–64 [ Links ]
16. Kazuma, K.; Noda, N.; Suzuki, M. Phytochemistry 2003, 62, 229–237. [ Links ]
17. El–Seedi, H. R.; Sobaih, S. A. M. Rev. Latinoamer. Quím. 1999, 27, 17–21. [ Links ]
18. Nishida, R.; Ohsugi, T.; Fukami, H.; Nakahima, S. Agric. Biol. Chem. 1990, 54, 1265–1270. [ Links ]
19. Jo, S. H.; Ka, E. H.; Lee, H. S.; Apostolidis, E.; Jang, H. D.; Kwon, Y. I. Int. J. Appl. Res. Nat. Prod. 2010, 2, 52–60. [ Links ]
20. Slimestad, R.; Verheul, M. J. Agric. Food Chem. 2011, 59, 3180–3185. [ Links ]
21. Jeong, C. S. Biomol. Ther. 2009, 17, 199–204. [ Links ]
22. Kanchana, A.; Heleena, S. A.; Ayyappan S. R. J. Pharm. Res. 2010, 3, 1991–1996. [ Links ]