Introduction
Autosomal recessive osteopetrosis Type I (ARO1, OMIM 259700) is a rare multisystem bone disease, being the most severe phenotype of the various osteoclast disorders. In this disease, insufficient calcified cartilage resorption interferes with the normal turnover of mature bone. Affected individuals usually die in the first 10 years of life1. The cause of death usually is related to bone marrow failure. To date, seven genes at least have independently been linked in the etiology of autosomal recessive osteopetrosis, among which TCIRG1, CLCN7, and OSTM1 have been reported as the most frequently affected. Incidence is estimated to be 1 in 100,000 to 1 in 500,0002.
ARO1 is associated with premature infantile death. In newborns, it can be diagnosed in an early fashion (as early as 10 days of age). The disease hallmarks are mainly pathologic fractures, bone marrow failure, and cranial nerve compression due to impaired bone turnover metabolism and inability to widen cranial nerve foramina.
Case report
An 8-month-old infant was received for evaluation. Perinatal history relevant for being born to a fourth pregnancy of non-consanguineous parents (a three-generation pedigree was conducted to rule out consanguinity) and obtained through vaginal delivery at 38 weeks of gestational age. Bodily measurements revealed weight (4,200 g, fifth percentile) and height (72 cm, seventh percentile).
The mother noted an absence of gaze fixation, pallor, petechiae, poor feeding skills, and failure to grow. He was initially diagnosed as hypothyroid and given thyroxine for 6 months with no apparent benefit. A complete blood count was obtained and cytopenias (leukopenia without neutropenia, anemia, and thrombocytopenia). On examination, the infant was found with hypotonia, abnormal eye movements, depressed nasal bridge, and hepatomegaly without splenomegaly. An abdominal ultrasound measured a normal spleen and an enlarged liver with 345 cc estimated volume. A hematology consultation was sought. On peripheral smear, abnormal azurophilic granules in lymphocytes and neutrophils were apparent (Fig. 1). The initial bone marrow evaluation resulted in a dry tap. On marrow blood, no blasts, Gaucher cells, or Niemann-Pick cells were identified. Due to lack of a definitive diagnosis, the patient was discharged and put on surveillance. Three months later, he was admitted on the basis of pancytopenia and a community-acquired pneumonia. In the second hospitalization, a new bone marrow aspiration with bone marrow biopsy was attempted an adequate sample with Trucut technique but could not be obtained due to the small size of the patient pelvis. A diagnosis of osteopetrosis was suggested and plain films were ordered. Marked opacity of bone in thorax and ribs, skull, and long bones was noted (Figs. 2 and 3). A "bone within bone" image was evident. Extended bloodwork revealed increased parathormone levels (85 pg/ml), normal calcium, and reduced phosphorus levels. Ancillary consultations were sought. Maxillary surgery reported maxillary and mandibular hypoplasia, with the absence of tooth eruption. Pediatric ophthalmology noted an absence of fixed gaze, horizontal nystagmus, and optic nerve pallor, suggesting bilateral optic nerve hypoplasia. A genetic consultation was sought for molecular confirmation of diagnosis due to inadequate bone marrow sample. With an informed consent, DNA was obtained from the proband and his parents, from an oral brush technique for the patient and in peripheral blood for parents. DNA was extracted through routine protocol and sent abroad for molecular study.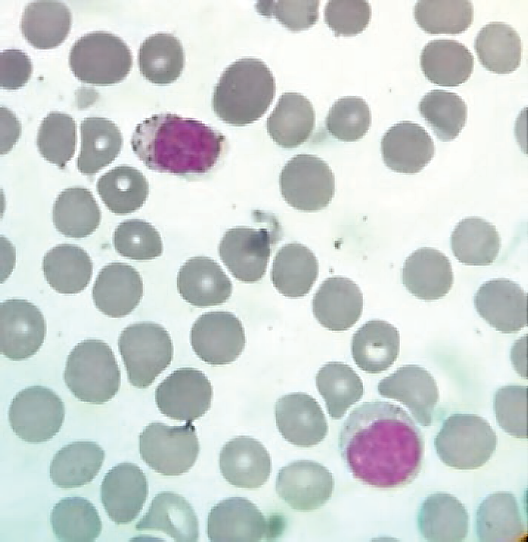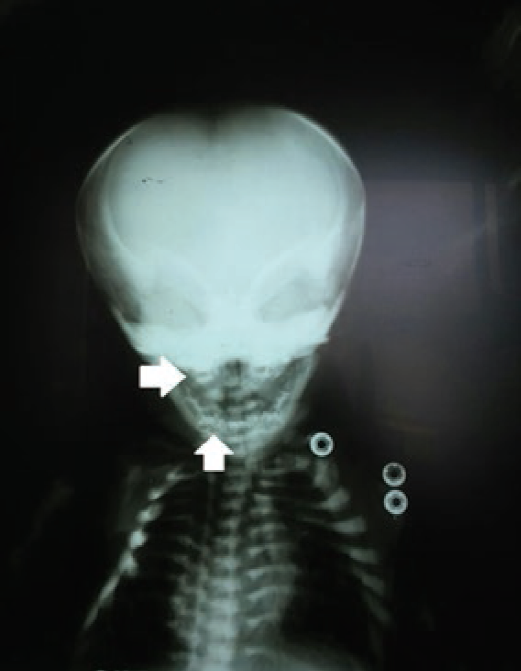 The sample was subjected to direct sequencing of the PCR amplified exons. Two pathogenic variants of the TCIRG1 gene were detected: on the maternal allele, a single nucleotide change (c.504-6 C>A), and on the paternal allele, a nine nucleotide deletion (c.1809_1818del), confirming a compound heterozygote status for the proband and the carrier state of both the parents.
The pathogenic variant on the maternal allele has previously been reported and is described as a change in the acceptor site of splicing machinery in exon 6, which produces abnormal splicing with frameshift effect.
Deletion on paternal allele has not been reported previously.
Bone marrow transplantation in a reference hospital was consulted for the case evaluation. They considered an intact visual function as a requirement for transplantation, as measured by visual-evoked potentials. The procedure was nonetheless offered to the patient, which declined to consent. At the time of manuscript writing, the patient was still alive but frequently afflicted by infections, cytopenias, and transfusion dependence.