Introduction
Thirty-eight-year-old woman presented with a history of chronic non-specific ulcerative colitis (CNUC) under treatment with meclizine. She presented with clinical symptoms characterized by asthenia, adynamia, 40°C fever with chills, in addition to liquid bowel movements with traces of bleeding, tenesmus, and incontinence. She was hospitalized in another institution where a heart murmur was detected. Transthoracic echocardiogram (TTE) showed serious aortic insufficiency (onal Institute of Cardiology of Mexico. On admission, clinical data consistent with severe AI were found, including positive Landolfi's sign, Corrigan's pulse, precordium with aspirational, holodiastolic mAI). Due to these findings, she was transferred to Natiurmur in accessory aortic focus irradiating to the apex, extremities with wide peripheral pulses, positive Lyan and Quincke signs, in addition to left auricle with augmented size, edema, erythema, and tenderness.
The TTE revealed dilated left ventricle with ejection fraction of 50%, right ventricle with preserved systolic function, trivalve aortic valve with left coronary leaflet prolapse, and aortic root dilation that caused severe AI (Fig. 1A and B). The approach was completed with transesophageal echocardiogram, which showed low probability of endocarditis and corroborated the previously described TTE findings (Fig. 1C and D).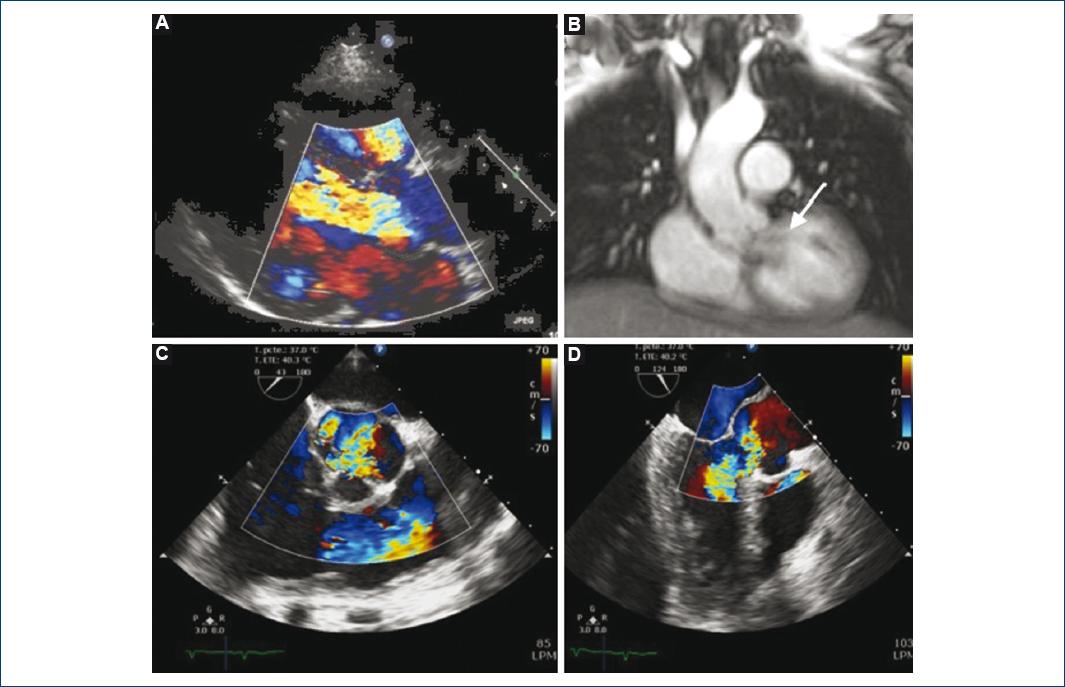 Due to her previous history of CNUC, she was evaluated by the Gastroenterology Department, where a colonoscopy identified CNUC-secondary pancolitis. In view of the apparent presence of auricular chondritis, she was also assessed by the Rheumatology Department due to suspected relapsing polychondritis (RP). RP diagnosis was established by the presence of three McAdam criteria: auricular chondritis, nasal chondritis, and audiovestibular damage (left unilateral hearing loss corroborated by audiometry). Treatment with hydrocortisone and methotrexate was started. Due to the presence of AI, aortic valve exchange operation was proposed, but the patient rejected the procedure. She was discharged with treatment based on prednisone and methotrexate and continued on follow-up by the outpatient services. In the follow-up visit 2 months after her discharge, improvement of the auricular inflammatory process was noticed, as well as cardiovascular symptoms' improvement (NYHA functional Class I).
Discussion
RP is a systemic inflammatory disease characterized by repetitive episodes of inflammation of cartilaginous structures and proteoglycan-rich tissues (eyes, heart, and blood vessels). Its annual incidence is 3.5 cases per million population, with peak incidence at between 30 and 55 years of age1. The cause is unknown, although there appears to be some genetic susceptibility. A relationship between RP and major histocompatibility complex Class II has been described, specifically with human leukocyte antigen (HLA)-DR4. Humoral immunity plays an important role in pathophysiology through the production of autoantibodies, especially against type II collagen. Production of autoantibodies against type IX and XI collagen, as well as matriline 1 and extracellular matrix proteins present in cartilage, is also identified2. Another relevant pathophysiological mechanism is an elevation of pro-inflammatory cytokines involved in macrophage, monocyte, and leukocyte activation in patients with RP, which suggests impairment of cellular immunity3, which appears to be directed against type II collagen as well4.
RP most common clinical manifestations are auricular (36-81%) and nasal (29-54%), with the former being the most prevalent initial manifestation. There are also cardiovascular, renal, and neurological manifestations, which are less common1. Cardiovascular manifestations include aortitis, aortic aneurysms, valvulopathies (aortic or mitral regurgitation), conduction system disorders, and pericarditis, among others5,6.
Cardiovascular complication-related mortality is the second most important cause of death after of laryngotracheal complications. Within these complications, aortic compromise stands out, which has been documented in 5%-10% of individuals with RP. Aortic lesions can be asymptomatic at early stages, and there appears to be certain selectivity for the thoracic aorta (82-92%), and up to one-third of patients present with thoracic and abdominal aorta involvement. The most common aortic abnormalities described in these patients are isolated aortic aneurysms and aortitis. The presence of chronic aortitis is likely to be part of the pathophysiology of aortic aneurysm development5. Based on the above, the most common cardiovascular clinical manifestations are attributed to aortic regurgitation secondary to aortic root dilation2,7.
RP diagnosis is established using the McAdam criteria; at least three criteria are required for the diagnosis to be established. These criteria include auricular chondritis, non-erosive polyarthritis, nasal chondritis, ocular inflammation (conjunctivitis, keratitis, uveitis, and scleritis), respiratory tract chondritis (larynx or trachea), and cochlear or vestibular alterations (hearing loss, tinnitus, and vertigo)8.
There is no specific laboratory work-up for polychondritis diagnosis. When there is diagnostic doubt, auricular biopsy is useful to corroborate the diagnostic suspicion.
The use of positron emission tomography/computed tomography with 18F-fluorodeoxyglucose is useful for diagnosis when clinical presentation lacks typical clinical manifestations, and uptake increase is identified in compromised sites, including the aorta2. In addition, it is useful during follow-up to assess the response to immunosuppressive treatment9.
For the treatment of RP, immunosuppressive and immunomodulatory drugs are commonly used, but none of them has been shown to modify the natural evolution of the disease. Factors such as compromised organs, severity, and duration of activity should be taken into account when making therapeutic decisions. Treatment with glucocorticoids is the cornerstone of treatment of this disease. In cases, where the disease is moderate or serious, with risk of damage to compromised organs, the use of combined treatment is indicated, with addition of cyclophosphamide, azathioprine, or methotrexate to the glucocorticoid treatment. If despite this, an adequate treatment response is not obtained; biological agents such as tumor necrosis factor-alpha antagonists can be prescribed (infliximab, etanercept, and adalimumab). Other biological compounds that are administered in the treatment of RP such as tocilizumab (anti-interleukin-6 antibody) and abatacept (T-cell activation inhibitor) have been shown to be effective for the treatment of RP in some case series.
Indications for surgical treatment and ideal time to practice an intervention are controversial, given that surgical treatment entails multiple post-surgical complications due to the high risk of early prosthetic dehiscence and aneurysm recurrence due to tissue friability caused by recurrent inflammation, even in patients with mild disease5. Due to this, some authors recommend ascending aorta replacement whenever an aortic valve change is performed in patients with RP10.
During periodic follow-up of RP patients, cardiovascular compromise should be directly monitored, given that it does not only occur during the acute inflammatory disease phase, but it can occur even in asymptomatic patients5.
Conclusion
RP cardiovascular manifestations are the second leading cause of death in patients with this disease. AI is the most common valvular disease in RP and treatment consists of immunosuppressants to decrease inflammation and perform a valve exchange operation. Surgical treatment entails multiple complications due to tissue friability caused by recurrent inflammation.