1. Introduction
Amber pieces from Campo La Granja mines near Simojovel, Chiapas, include a diverse, abundant, and well-preserved aquatic and semiaquatic fauna (mainly Crustacea), represented by harpacticoid copepods (Huys et al., 2016), ostracods (Matzke-Karasz et al., 2019), isopods (Broly et al., 2018), parasitic bopyrid isopods (Serrano-Sánchez et al., 2016a), sesarmid crabs (Serrano-Sánchez et al., 2016b), caridean shrimp (Du et al., 2019), tanaidaceans (Heard et al., 2018) and semiaquatic and terrestrial amphipods (Hegna et al., 2020). This peculiar association is interpreted as an estuarine assemblage of microscopic aquatic crustaceans and insects, deposited in a mangrove substrate near the ancient Gulf of Mexico coast (Serrano-Sánchez et al., 2015). Palaeobotanical evidences support the estuarine environment during the earliest Miocene (Langenheim et al., 1967; Cobben, 1971; Frost and Langenheim, 1974; Poinar, 1992; Langenheim, 1995; Graham, 1993; Poinar and Brown, 2002; García-Villafuerte, 2009; Calvillo-Canadell et al., 2010; Solórzano-Kraemer, 2010). According to Serrano-Sánchez et al. (2015), the Campo La Granja amber was deposited as a very fluid resin in temporal ponds and pools on the estuary substrate, where tides transported the small arthropods still alive; they became incorporated in the fluid resin along with coarse quartz sand grains, resulting in stratified amber pieces, completely different from the typical amber pieces from the Mazantic Shales, which includes organic matter but no sediment at all, including terrestrial organisms such as chelicerate arthropods, insects, fungi, and plant remains. For location map and geological information, please refer to Serrano-Sánchez et al., (2015).
The Dipsocoromorpha is one of the smallest and less studied infraorders of Heteroptera (Hemiptera), its size ranges between 0.5 and 4 mm, and specimens are associated with cryptic habitats (Weirauch and Fernandes, 2015; Weirauch and Frankenberg, 2015). Within Dipsocoromorpha, the Schizopteridae is the most numerous family (Henry, 2009), whose species live in wet soils and litter, being common in mosses and behind rocks near the edge of rivers and streams. The group has a worldwide distribution in tropical and subtropical areas, being more abundant in humid tropics. Many schizopteroids have coleopteroid forewings, which means that the wings resemble certain beetles' elytra. The body is usually rounded and wide, with large, whip-shaped antennae bearing large setae (Emsley, 1969; Grimaldi and Engel, 2005). The Schizopteridae includes approximately 350 described species, assigned to two subfamilies: Hypselosomatinae and Schizopterinae (Knyshov et al., 2020). The Hypselosomatinae includes 16 genera and 77 species (Albuquerque-Almeida et al., 2019) and is well-known in Australasia (Hill, 1984; 1991). In the Americas, four genera represent this subfamily: GlyptocombusHeidemann 1906, OmmatidesUhler 1894, HypselosomopsHoey-Chamberlain and Weirauch, 2016, and HypsohapsisHoey-Chamberlain and Weirauch 2016. In Mexico, Glyptocombus has been found in Chiapas (Weirauch and Hoey-Chamberlain, 2018; Hoey-Chamberlain and Weirauch, 2019). The Schizopteridae is an old group, which the oldest record corresponds to a Hypselosomatinae from the Early Cretaceous amber of Lebanon (Azar and Nel, 2010). In fact, Hypselosomatinae includes the most abundant fossil record of Schizopteridae (Chen et al., 2019). Perrichot et al., (2007) reported two genera in the Early Cretaceous amber from France and Myanmar. These fossils were related to HypselosomaReuter 1891, suggesting that the origin of this infraorder goes back to the Early Mesozoic. Another genus in the Myanmar amber was reported by Chen et al., (2019). Grimaldi and Engel (2005) suggested that the dipsocoromorphs exist since Triassic times, based on a fossil record from the Late Triassic Virginia shales.
Poinar and Brown (2014) described three species from the Dominican amber, identified as modern genera: Hypselosoma dominicana Poinar and Brown, Schizoptera dominicana Poinar and Schizoptera hispaniolae Poinar. Hoey-Chamberlain and Weirauch (2019) reexamined H. dominicana and concluded it presents affinities with genera from the Americas, not with Hypselosoma, however, they refrained from moving this species intro a new combination. Finally, for the early Miocene amber of Chiapas, the locality where the sample originated, there is one record for the Ceratocombidae of the same infraorder (Dipsocoromorpha) (Azar et al., 2010). The genus and species herein described represent an extension of the fossil record of the Hypselosomatinae in the Americas and the first record of the Schizopteridae in the early Miocene amber from Chiapas. The paleoenvironment reported for Hypselosomatinae found in Cretaceous amber (Perrichot et al., 2007) is coincident with the estuarine environment interpreted for the Miocene amber of Chiapas.
Specimens are deposited at the Museo de Paleontología "Eliseo Palacios Aguilera", Secretaria de Medio Ambiente e Historia Natural (IHNFG), Tuxtla Gutiérrez, Chiapas under acronym IHNFG.
2. Systematic Paleontology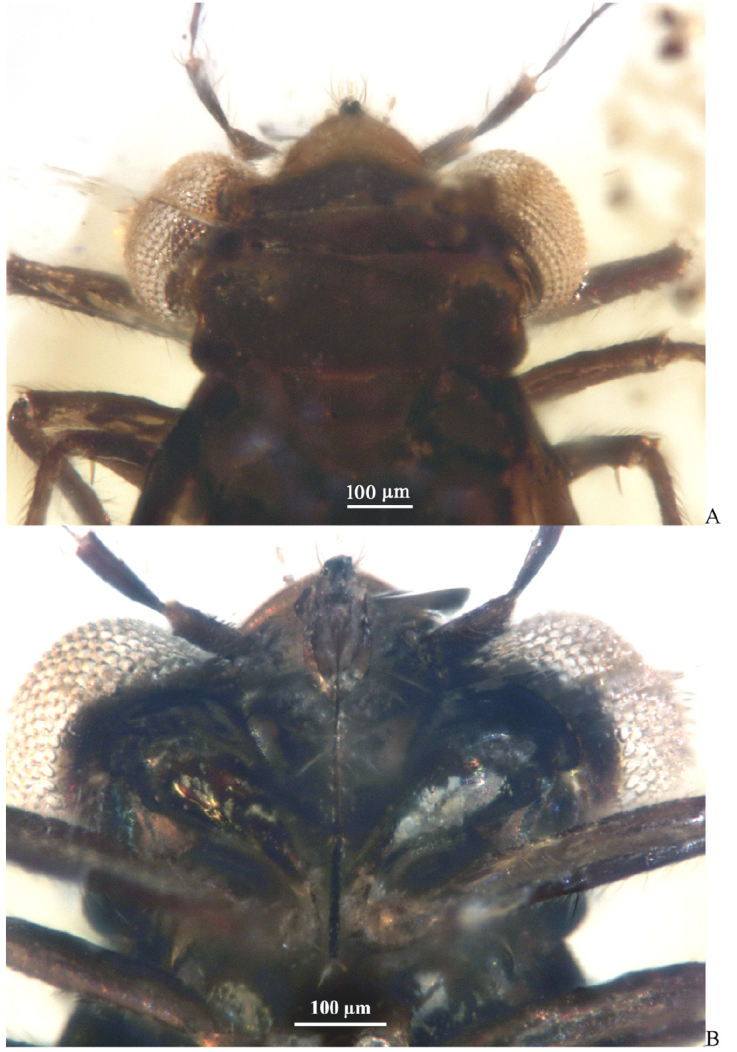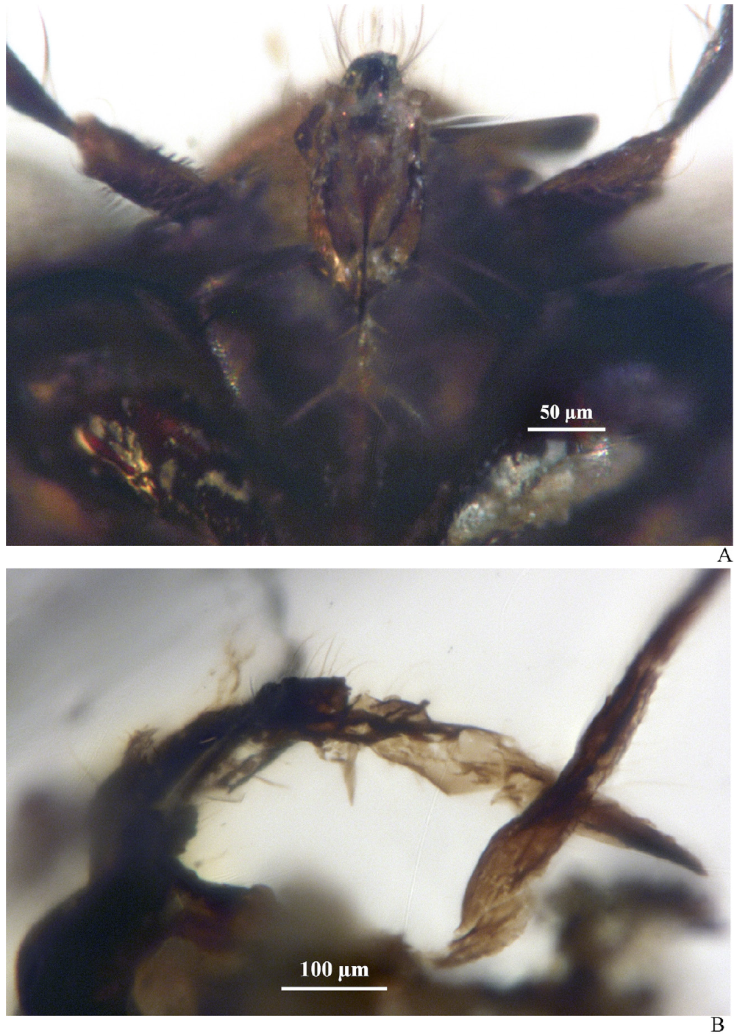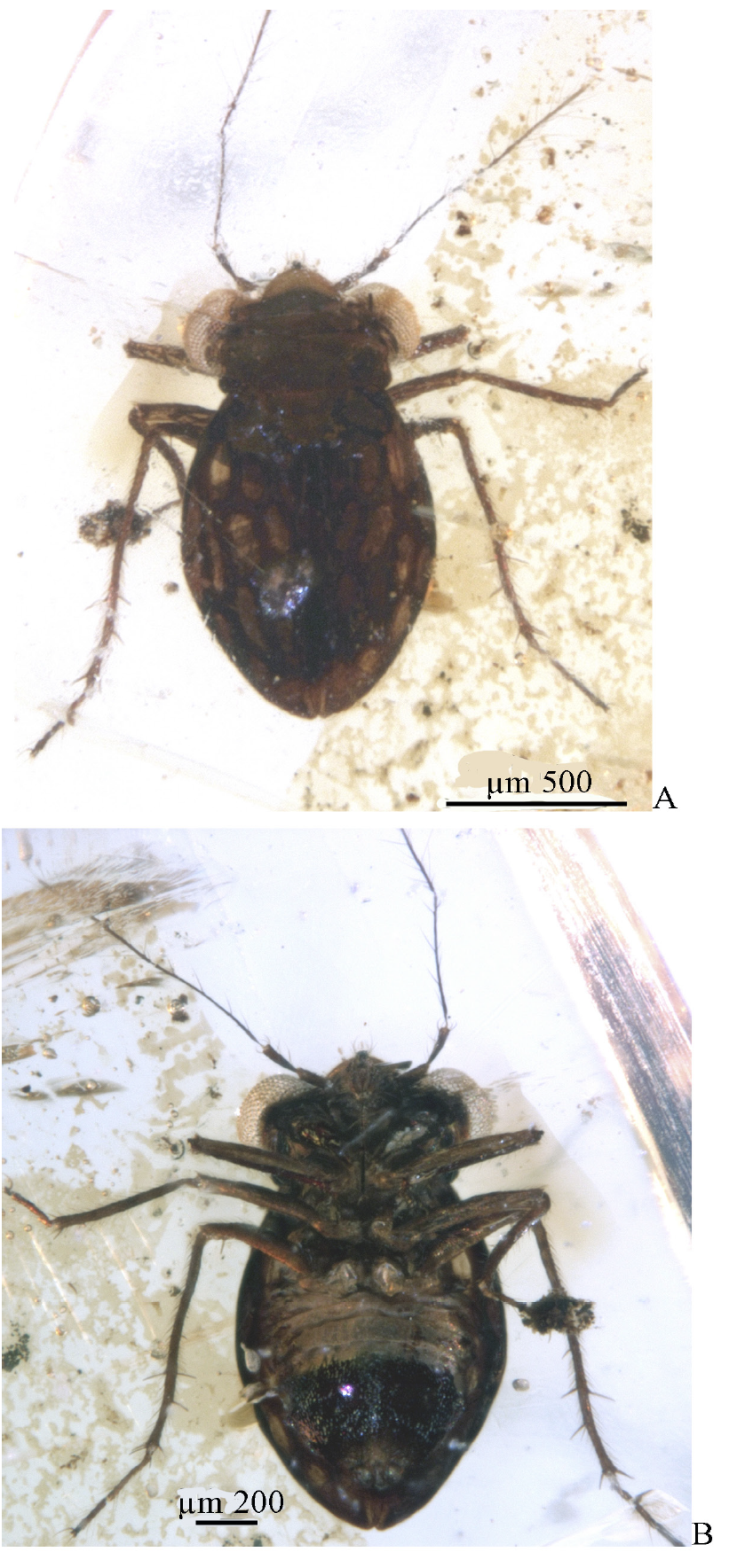 Type species: Hypsotsijilia bretoni Cifuentes-Ruiz and Brailovsky gen. et sp. nov.
Diagnosis: Clypeus with long setae, pronotum rectangular, elytra base narrow with respect to pronotum base; lateral margins of elytra, convex. Elytriform forewing not areolate, wide veins, elongate, oval cells, four oval cells under subcostal cell. Legs with medium number of setae.
Description: Female. Ovoid body. Clypeus with up to ten thin setae, pronotum rectangular, elytra base narrow with respect to pronotum base; lateral margins of elytra, convex. Elytriform forewings not areolate, wide veins, elongate, oval cells, four oval cells under subcostal cell. Legs with medium number of setae. Legs with up to seven spiniform macrosetae. Female. Coleopteroid. Body length: 1.49 mm (from the head to the apex of elytra), width 0.77mm. Brown to dark brown, except the wing cells, that are transparent. Head (Figures 1 to 4). Width including compound eyes, 0.58 mm, three times wider than long. Eyes well developed and big, overlapping the lateral margins of pronotum, width 0.12 mm in dorsal view (almost ¼ of interocular distance). Antennae four segmented, with length about 0.08 mm, 0.12 mm, 0.38 mm 0.42 mm. The first two much shorter, 1.6 to 2 times longer than wide; the two last 42 to 43 longer than wide. The third and fourth segments with long setae (from 0.06 mm to 0.12 mm length), symmetric, disperse. Clypeus with at least ten thin setae. Labium 0.36 mm long, reaching posterior margin of anterior coxa. Buccula with a pair of lateral large setae. First labial segment 0.14 mm long, with a pair of large setae, second segment 0.08 mm, third segment 0.04 mm, and fourth segment 0.06 mm. Third and fourth segments with at least three thick setae. Thorax (Figures 1, 2 and 4). Pronotum rectangular, length 0.26 mm, width 0.52 mm, greatest width at the base. Pronotal collar prominent, length 0.07 mm towards the middle. Scutellum 1/6 elytra length, subtriangular, with blunt apex. Legs (Figures 1 and 4). Tarsal formula 2/2/3. Anterior coxae extending from the second third of the eye length. Fore femora and middle femora as long as fore tibia and middle tibia. Hind tibia twice the length of hind femora. Long setae and medium setal density on femorae and tibiae; hind femora with a pair of thick spiniform preapical setae; metatibiae with at least eight spiniform setae. Thin setae 0.03 mm long, spiniform setae 0.07 mm long. Measurements of legs (in mm): length of fore femora, 0.44, fore tibia 0.41, fore tarsus 0.10; length of middle femora 0.42, middle tibia 0.44, middle tarsi 0.17; length of hind femora 0.35, hind tibia 0.70, hind tarsi 0.33. Wings (Figures 1A, 1C, 1D and 4A). Fore wings elytrous, length 1.08 mm, width 0.37 mm, covering and slightly extending beyond the abdomen (0.1 mm). Base of elytra slightly narrower than base of pronotum, and lateral margins of elytra, which are convex. Wing veins prominent, eleven wing cells large and elongate or oval in each elytron, five of them marginal (four under the subcostal cell). Abdomen (Figures 4B and 5A). Seven visible sternites. Length 0.78 mm, and greatest width 0.66 mm, spiracles not visible. The most apical portion of posterior gonapophysis (eight) visible.
Etymology: Hypso is the prefix of several genera in the Hypselosomatinae, tsijil is a tsotsil word to design Hemiptera insects. Tsotsil is the predominant language of the original communities from Simojovel de Allende, Chiapas, Mexico.
Distribution: La Quinta Formation, Finca Carmitto Member, Lower Miocene, Campo La Granja, Simojovel, Chiapas.
Diagnosis: As for genus.
Description: As for genus.
Etymology: The species is dedicated to the memory of Gérard Breton, brilliant French paleontologist with many important contributions to the study of flora and fauna preserved in amber.
Material examined: Holotype IHNFG-5960, paratypes IHNFG-5961 to IHNFG-5966.
Type locality: La Quinta Formation, Finca Carmitto Member, early Miocene, Campo La Granja, Simojovel, Chiapas.
Taxonomy: The characters of the specimen that match with the infraorder Dipsocoromorpha are: small size, head often declivous, antennae with short scape and pedicel, and two long, thin flagellomeres covered with long setae (Štys, 1995). In many species of Schizopteridae, including the specimens herein observed, the forewing is not clearly divided into corium and membrane, instead, it is completely elytrous, coleopteroid (Weirauch and Fernandes, 2015). Likewise, the specimens can be placed in the subfamily Hypselosomatinae, for the exceedingly large eyes, over-lapping the anterolateral margin of pronotum, and the four-segment labium. In this subfamily the third and fourth labial segments often appear connate, so that miscounting is possible, particularly in amber fossils (Hill, 2013).
Forewing venation has been used as a criterion to diagnose several fossil taxa in this subfamily (for example, Hartung et al., 2017; Chen et al., 2019). The specimens studied herein are not macropterous with membranous wings, instead, forewings are elytrous. The characters that distinguish this taxon among others are not the ones used in the systematics of current taxa (for example, genital morphology). Instead, the important diagnostic features are visible characters of the head, legs, and elytrous wings.
Despite the similarity between Hypsotsijilia gen. nov. and GlyptocombusHeidemann 1906, redescribed by Weirauch and Hoey-Chamberlain (2018), the former can be distinguished from the latter by the absence of dense setae in all the surface of the tibiae. Also, Glyptocombus species have elytrous wings, but with different patterns: in G. mexicanus Weirauch, in Weirauch, Hoey-Chamberlain and Knyshov 2018 and G. saltatorHeidemann, 1906 the elytra are areolate, with very reduced wing cells, or with prominent veins and very narrow and elongate wing cells. In Hypsotsijilia bretoni n. gen., n. sp. wing cells are wider and oval, and the clypeus has at least ten setae. As in Glyptocombus, H. bretoni n. gen, n. sp. presents a pair of thick setae on the buccula, on the first and second labial segment. Nevertheless, the fourth segment has setae at the apex. In addition, the elytral base is narrower than the base of pronotum. Hypsotsijilia n. gen. resembles another New World genus, OmmatidesUhler 1894, recently reviewed (Hoey-Chamberlain and Weirauch, 2019). Unlike Ommatides, Hypsotsijilia n. gen. has prominent wing veins and wider wing cells, oval, not polygonal. It also has a narrow elytral base compared to the pronotum base and the elytral margins; the pronotum is more rectangular than trapezoidal. Hypsotsijilia n. gen. has seven, not five thick setae on the distal half of metatibiae. On the other hand, unlike HypsohapsisHoey-Chamberlain and Weirauch 2016 (a neotropical genus described from Brazil), Hypsotsijilia n. gen. does not have three pairs of ventrolateral macrosetae on the mouthparts, nor areolate forewings. Finally, the clypeus does not have three macrosetae, nor an apical depression, like HypselosomopsHoey-Chamberlain and Weirauch 2016, a monotypic neotropical genus.
3. Paleoenvironment
The Hypselosomatinae are found in cryptic microhabitats, being specialized to live in those environments and that may affect their dispersion ability. Most species have been found in litter and low forest regions. Hypselosoma species from Japan and Australia have been found in marine shore environments, such as wet soils near marshes and submerged junks during high tide (Esaki and Miyamoto, 1959; Hill, 1987). Perrichot et al., (2007) documented that the Schizopteridae of Singapore are found below dead wood in mangroves during high tide and emerge to feed on small invertebrates (Collembola and Copepoda) during low tide. Buzinia and Tanaia, described by Perrichot et al., (2007) for Early Cretaceous amber, lived in litter near estuaries and mangroves, feeding on decaying organic matter and microarthropods, which fit the paleoenvironmental model suggested by Serrano-Sánchez et al., (2015) for the Campo La Granja amber. Specimens herein reported belong to an extinct genus, and therefore, phylogenetic relationships with other living taxa are rather obscure, as observed for other arthropods preserved in Mexican amber (Engel, 2004). The knowledge of the taxonomy and distribution of the herein discussed group is reflected by the fact that two of the four known neotropical species were described during the last five years (Hoey-Chamberlain and Weirauch, 2016).
Only two Ceratocombidae species have been described for the amber of Chiapas (Azar et al., 2010). Schizopteridae species are known for the Miocene Dominican amber (Poinar and Brown, 2014). The herein described species increase the past and present diversity of the neotropical Hypselosomatinae, with a current total of five genera and 18 species for the Americas (Almeida et al., 2019; Hoey-Chamberlain and Weirauch, 2019).