Life and career (Anonymous, 1823; Coley 1968; Garrod, 1925; Moore, 2020)
Alexandre John Gaspar Marcet (Figure 1) was born in Geneva Switzerland, on August 1, 1770, the son of Marc Marcet, a merchant, and Louise-Marguerite Nadal. He received his school education there. In 1794, after studying business for two years, he decided that it was not to his taste and started to train for a career in law. The political unrest in Geneva after the French Revolution led to his imprisonment and banishment abroad for five years. Marcet took this opportunity to enroll in the University of Edinburgh from where he graduated as a physician on 24 June 1797, after successfully defending a thesis about diabetes (Marcet, 1797). After graduation, he worked as assistant physician at Cary Street Dispensary, as physician at the Finsbury Dispensary for Administering Advice and Medicines to the Poor and at Guy's hospital (1804), where he served until his early retirement in 1819. By a special act of the British Parliament, passed in 1800, he became a naturalized subject of England. While in Guy's hospital, he taught chemistry (1804-1809) and specialized in medical chemistry, serving briefly at the temporary military hospital at Portsmouth in 1809 when it housed troops suffering from a virulent fever contracted during the expedition to capture Flushing and Walcheren (an unsuccessful British expedition to the Netherlands in 1809 intended to open another front in the Austrian Empire's struggle with France during the War of the Fifth Coalition). After the death of his father-in-law he inherited a large fortune and decided to leave the practice of medicine and pursue scientific research. Consequently, he moved from London to Geneva, where he was appointed honorary professor of chemistry.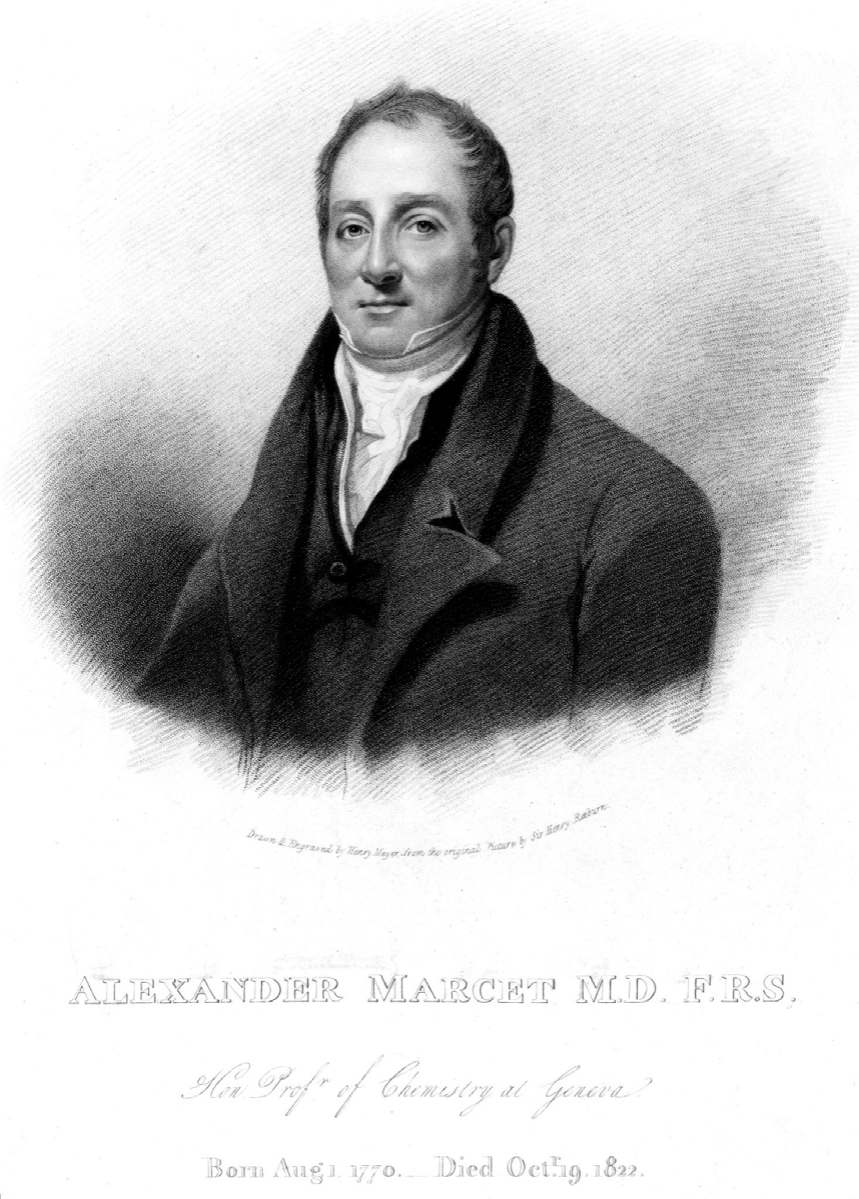 In 1799 Marcet married Jane Haldimand (1769-1858). Three children were born of this union: Louisa, Sophie, and François.
In 1799 Marcet was admitted to the Royal College of Physicians and in 1815 was elected Fellow of the Royal Society. He was a founder member of the Medico-Chirurgical Society of London and its foreign secretary until his death in 1822.
Marcet passed away during a visit to London, on October 19, 1822, after suffering an attack of gout in the stomach. He was buried at Battersea and was survived by his wife.
Scientific contribution
Marcet wrote near 30 papers and books (e.g. Marcet, 1818, 1829) on the topics of inorganic and organic chemistry, saline waters, physiology, toxicology, etcétera In addition to the few subjects described below, he reported the effects produced by a large amount of Landanum taken internally and the means to counteract its effects (Marcet, 1809); the analysis of the waters of an aluminous chalybeate spring (Marcet, 1811c); discussed the nature of the alkaline matter contained in dropsical fluids and in the blood serum (Marcet, 1811a, 1812c), the use of silver nitrate for the detection of minute portions of arsenic (Marcet, 1812b, 1815c), the medicinal properties of the thorn apple (Datura stramonium) with illustrative cases (Marcet, 1816), and the medical treatment of calculous disorders (Marcet, 1817); studied the properties of seawater in different parts of the ocean and suggested a correct procedure for their chemical analysis (Marcet, 1819, 1822); he also gave an account of a urine, which turned black after being discharged (Marcet, 1823); etcétera.